How to Handle a Home… All At once!
Part 1 of 3 in our series, "Remodeling an Entire Home"
Handling a Whole-Home Remodel
You're invited to join us for a journey:  to watch an actual project-in-progress.
Here at Handyworks Remodeling and Design (HRD) of Wallingford, CT, we handle bathroom makeovers, kitchen redesigns, roofing, siding, even creating a new patio or backyard deck from scratch, but THIS project is ALL of it…a whole house!
 Sit back and watch…we do the work!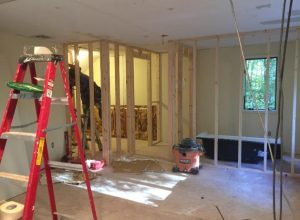 Can you imagine handling an entire house AND remodeling ALL of it, simultaneously? We do that too, so here, you can follow a "whole home" project as it happens.
At 2,310 square feet, this home is in a picturesque location, at the end of a cul-de-sac, in beautiful Bethany, Connecticut. The home needed lots of work, nearly everywhere. So our project/mission this time was to spend time on ALL the rooms, and that's exactly what we've begun doing.
"Scope of Work" means "a checklist of all the parts in this project"
TYPE OF PROJECT/SCOPE OF WORK: Whole-House, multi-room remodel, including:
This project includes all the following to be done, all at once: 


Kitchen, view 1:  Gut existing kitchen. Remove ceiling fan. New, painted walls & new wood flooring needed.  Change layout of appliances and add new ones.

Lawn/Driveway:  new landscape, remove excess trees (top photo)
Bedrooms:  Reduce 4 bedrooms to 3, add walk-in closet (middle photo)
Kitchen: Gutted kitchen, then renovate w/new look, new appliances (bottom photo)
Bathrooms: Leave existing bathroom as is, add master bathroom
Garage & Basement: Clean up, fix up
Paint, new tile, new flooring, new windows: all rooms
What do we do next?  Read Part 2 of this article (click below) to SEE the progress our "HandyWorkers" have made with whole-house remodeling project in Bethany, CT.
– Keith
This is Part 1 of 3 in our series, "Remodeling an Entire Home".
For Part 2, "Progress Update", click here.
For Part 3, "Welcome to Bethany", click here.
GET INPUT FROM AN EXPERT:  Keith Santora of Handyworks Remodeling and Design replies ASAP to your question the same or very next business day!  Free, no obligation.  Click here to ask.