Siding Solutions for Spring & Summer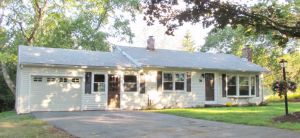 A Siding
Secret

PLUS a Siding

Tip

(…if you can't wait, see bottom two paragraphs)

Springtime and Summertime is SIDING time, changing the look of homes across Connecticut.  Just select the materials and the look you like, and you're off & running, with new siding from Handyworks Remodeling and Design of Wallingford, CT.
Wood Siding Has Been Replaced by…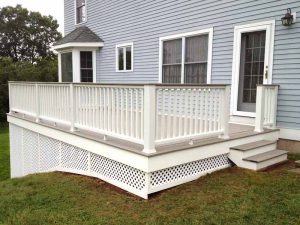 Originally, all home siding was made of wood. Over the years, new materials have taken the place of wood siding with one advantage or another. Nowadays, for example, there's vinyl siding which nearly always carries a lifetime warranty.
There's also fiber cement siding (looks like wood but is often costly). Stone face siding and vertical wood siding (both give a wood appearance, too). Ask your contractor about each of these choices.
Why Vinyl Siding Rules
Across the board, though, vinyl is far less expensive than wood or fiber cement because there's no maintenance, other than power washing annually.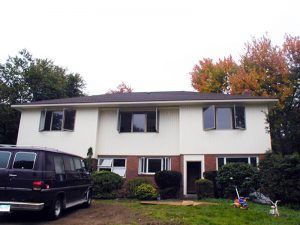 Vinyl can be repainted or re-stained, but vinyl never needs repainting unless you want to change the color. When vinyl is painted it can still "breathe" (more breathing info below).
Wood Siding Breathes…Your Home is HUMAN (almost)!
With wood or comparable siding, your exterior walls can breathe…regardless of whether or not it's painted. It's true!  Wood siding expands in hot weather and contracts in cold weather.
Siding:  New In Two (weeks)
Depending on the size of your home, of course, the "Handyworkers" from Handyworks Remodeling and Design can get your new siding up quickly. For example, a home with 1,500 to 2,000 square feet can be re-sided by one of our 2-person teams in about 2 weeks.
Selecting Siding, Side-by-Side
This is an area you and your partner might enjoy deciding on together; select the materials, select the color and whether or not any additional projects will be done at the same time as your siding.
Siding's Best-Kept Secret
Be careful in selecting the coatings used to paint your siding. Not all coatings for siding are permanent and/or lifelong. Some coatings literally "seal up" your siding so it can no longer breathe.  As a result, these coatings often cause your paint to blister as moisture has to get out, it literally pushes it's way thru the paint, causing blisters to form and crack the paint.B
Be Warmer this Winter with Siding this Spring
Sounds funny, but your home could be warmer this winter if you used your spring or summer siding project to also add a small layer of insulation between the siding and your existing exterior.
Most older houses have very little insulation, which means that it has almost no effect.  You need to make sure your insulation is of a significant thickness. Experts say exterior insulation should be at least 3-4 inches.
And frankly, springtime and summertime IS the perfect time to get your siding project going.  The weather's on YOUR side!  Here at HRD, Handyworks Remodeling and Design, we're happy to help!
— Keith