A Remodeler's References AND Reputation: Check BOTH before you hire
Part 2 of 3 in our series, "Choosing the Right Remodeler"
Finding and hiring the right Connecticut remodeler for your next project includes two critical checks: (1) their reputation, and (2) their references.  Here's how to accomplish both checks, in a few quick steps: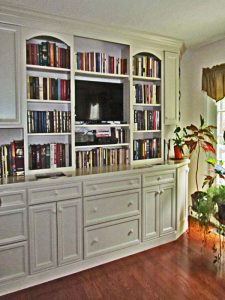 REPUTATION checks: look for a local company with an frequently-recommended reputation. Ask around. You want to be working with a local company with a strong reputation AND one that comes highly recommended.   Two rapid ways to check this:
Ask local experts about the company:  Just ask. There are many companies in New Haven County, Middlesex County and Hartford County that'll probably know the best firm's reputations without even looking anything up!
Ask reporting agencies like the BBB, Angie's List, or other reputable business-reporting agency.
REFERENCE checks:  Before the Internet, people checked references of remodeling companies by asking friends, neighbors, co-workers, or the guy next door.  That still works, but others prefer surfing the web. NOTE: Don't sign any company with ONLY older references.  A company with no recent references may be a sign they're not working as much as they used to. Strong firms have both, older and newer references.

Finished! (deck)
Tip: Check reviews, too. Reviews are evaluations of a company written by customers, usually posted online. Keep an eye out for recent bad reviews.
Knowing a company's reputation AND references help you hire the right remodeler, every time.
— Keith
LEARN MORE ON THIS SUBJECT: 
This article is Part 2 in our series, "Choosing the Right Remodeler".  We hope you found it valuable.  If so., you may wish to read parts 1 and 3, both also written by Keith Santora, president of HRD, Handyworks Remodeling and Design of Wallingford, CT.  Here they are: 
To read Part 3, "Is the BEST price the RIGHT price?  Probably not!"  just click here.
To read Part 1:  "Remodeling?  Talk to YOURSELF, First!" just click here.