Make the Most of Your Master Bathroom
Fixtures & Faucets:  Plumbing & Power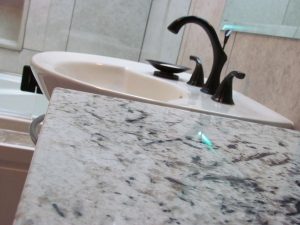 YES!  IN MASTER BATHROOM REMODELING, you CAN have it all, with HRD, Handyworks Remodeling and Design of Wallingford, CT.  Be sure your plans include any FIXTURES you want replaced , plus the physical LOCATION of where you want each fixture, if re-arranging is needed.
For example, let's say you want to swap the position of the sink and toilet in your master bathroom for more convenience, while making sure the power outlet moves as well, so it stays over the vanity and not over the toilet.  Sure, that can be done.  Tell us what you're looking for.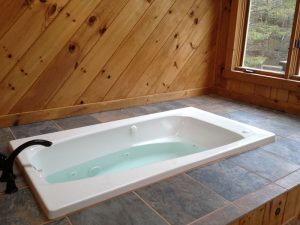 Bye-Bye Bathtub?  
SOME FAMILIES ENLARGE their master bathroom by removing the bathtub entirely, and replacing it with a shower, adding more floor space to the bathroom.
But before you make that move, remember if you're planning to ever sell your house, most buyers usually want at least one tub.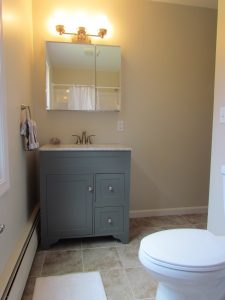 4 Walls, 1 Floor, 1 Countertop
SMALL TWEAKS…BIG IMPACT:  For instance, create high visual impact by replacing wall/floor tiles PLUS adding a new countertop to the vanity.
Or, consider adding a new medicine cabinet to the wall, to give the same old room a brand new appearance.
Go even further…. add a new ceiling light; or new light fixtures/sconces (around or above the vanity mirror) to really "put more light on the subject" than ever before.
Sink Styles & Toilet Trends
STREAMLINE THE SINK STYLE in your master bathroom instantly, with trendy new fixtures (gold/brass/chrome colors).
Two new toilet trends continue to be popular:
Water-Saver toilet tanks (fewer gallons per flush), and Comfort Height toilets (17 to 19 inches high) compared to traditional lower height toilets (less than 17 inches high).
Bathroom Bottom Line
EVERY YEAR, people spend many hours in their bathroom.  Before you speak with your remodeler, ask yourself "what do I want to be different from what I have now?"  That will help define the pet projects you want done most in your master bathroom.
At Handyworks Remodeling and Design (HRD), we specialize in top-notch bathroom remodeling in Wallingford, Hamden, Cheshire, Cromwell, Meriden, Middletown, Southington, Durham, Northford, North Branford, North Haven, and many other towns throughout south central Connecticut.
— Keith
ASK KEITH A QUESTION:  Get input from an expert!  Discuss your question with Keith Santora, president of HRD, Handyworks Remodeling and Design of Wallingford, CT.  Keith will reply ASAP to your question(s) the same day… or the very next morning!  Handyworks makes YOUR home… YOUR style!   Click here to ask now.