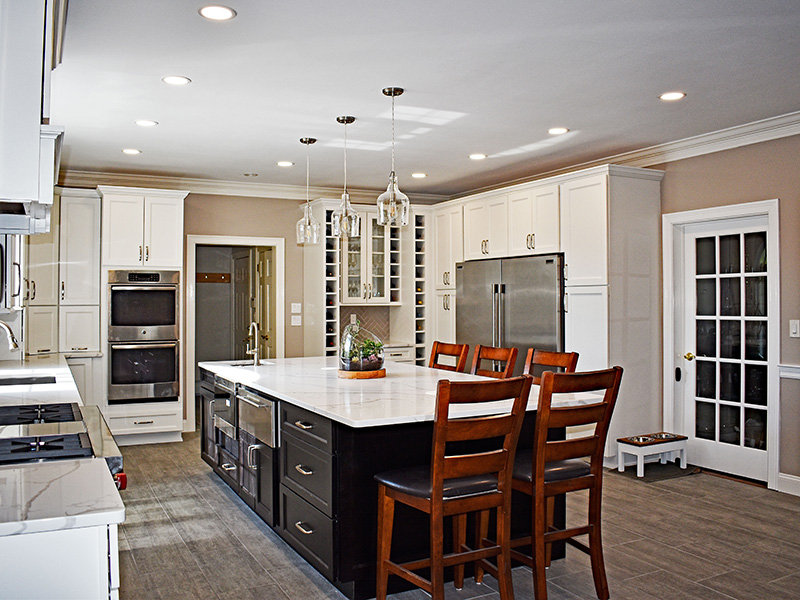 Creating a new home… IN your home!
Remodeling rooms IN your home creates a brand-new experience.  Consider improving any room, including…
KITCHEN remodeling: How about a re-configuration of your kitchen with a larger island to improve efficiency. appearance, and more cabinet space, too?
BATHROOM: We remodel bathrooms!   Give yours a complete remodeling.   Two bathrooms?  Consider transforming one into a master bathroom.
Other spaces in your home might need some thought, too, for example…

LIVING ROOM: Make one wall into a space for a larger TV and/or computer screen with ceiling-to-floor shelving.
ATTIC: Consider converting your attic into two or more new rooms. One room could become a bedroom, while the other room might become a new office.
BEDROOM: Transform one bedroom into an expansive master suite.
BASEMENT: Create a workout room, laundry room, bedroom, and/or office, too.
Discuss your ideas with the remodeling experts at HRD, Handyworks Remodeling and Design, then get rolling towards creating a new home IN your home!
Talk to you soon,
Keith
Want to discuss your steps with a remodeling professional?  Call Keith at Handyworks Remodeling and Design (HRD) in Wallingford, CT, 203-626-5451.  OTHER OPTIONS:  walk through our website www.HandyworksRemodeling.com to see the projects we've completed OR read our many blogs with even more remodeling ideas!  
Handyworks makes YOUR home… YOUR style!
###