REMODEL =
To modernize.  To repair.  To restore.  To increase value.  To improve!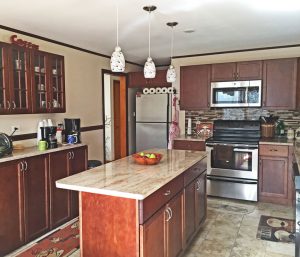 Q:  Remodeling, improving...what's the difference?
A:  IMPROVE your kitchen with new appliances, cabinet hardware and paint.  REMODEL it with new cabinets, countertops and a skylight/garden window.
Imagine...Create...Celebrate!
Handyworks Remodeling and Design (HRD) of Wallingford, CT can perform remodeling and improvements for every room in your home, including your basement and attic.  Your home...Your style!

FACT:  The most sought-after interior remodels & improvements involve bathrooms & kitchens.
YOUR KITCHEN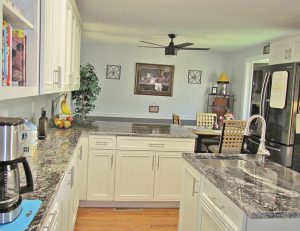 That center of functionality and social gatherings, the kitchen often becomes one of the most important rooms in your home. How it looks...is up to you.
Where do you place the value of your kitchen?  The kitchen layout should be convenient. The kitchen appliances should be functional. The overall appearance of the kitchen should be appealing.
More than the sum of its storage space, for some people, their kitchen must accommodate friends and family socializing for communal food prep together. For others, their kitchen is all about getting meals prepared and stored in a high-tech environment to maximize the amount of time spent elsewhere.
Wherever you place its value, the kitchen takes thought.  For example, Handyworks Remodeling and Design (HRD) has created additions to accomplish a kitchen remodel, we've changed cabinets or moved walls to update a look, and added granite countertops for durability and enhancement. Our kitchen gallery below will show you many examples.
You can trust your team at HRD to work with you to fit your budget AND your needs.
YOUR BATHROOM
The bathroom used to be a place nobody wanted to mention... people refer to it as the "rest" room, "the John", "the Library", "The Powder Room", and many more.  Europeans found other clever ways not to describe The Room: "the Loo", "the WaterCloset. "The Bathroom" is as close as society will allow us. Yet, it is one of the most functional rooms in the house.  Today,  homeowners want more than one bathroom AND want their bathroom both attractive AND functional.
Bathroom remodels take skill that other rooms don't need. Why? Because often, they're small spaces.
Another skill unique to bathrooms is its plumbing. HRD has logged literally thousands of hours doing bathroom remodels and has designed and implemented countless varieties of bathrooms. This combination gives us an edge when it comes to helping you to imagine...create...celebrate!
Of course, there's much more to interiors than kitchens and baths. Every room has value. Changing or improving flooring, moving walls, updating surfaces.
SAFETY
And, let's not forget safety. HRD can help make your home safe and keep you independent!  Sometimes, a well-placed grab-bar in your bathroom can make all the difference.
Insist on the HRD GUARANTEE:
Quality work and craftsmanship
Professionalism and courtesy
Individual attention
A clean worksite
Attention to budget
Take a Walk Through our "Galleries of Inspiration!"
Your "click trip" starts here!  You can stroll through our finished photo library of HRD projects we've done, right now:  to see our finished project photo gallery, click here.   Get some ideas...have some fun!
Or, to discuss your ideas with Keith Santora, HRD president, with a lifetime of remodeling experience, call 203-626-5451 or click the orange button below to "Ask Keith NOW"!