Need a NEW KITCHEN or NEW DECK? BATHROOM need repairs?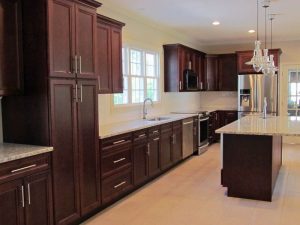 SEEING "SPOTS" in your home that need work this summer or fall?  Read Keith's Korner Blog for a checklist of spots you may need work on ASAP.  Check our checklist here, see if any "spots" match yours.
Get a hand from HandyWorks Remodeling of Wallingford, CT, and make things happen today. 
On this home page, you can...
>  ...DISCOVER our "smarter approach" to help you.
>  ...LEARN why we do what we do, in a unique way.
>  ...READ our blogs on remodeling topics (below).
>  ...SEE pictures of our finished work (below).
GET IT ALL RIGHT!  All right from this page! 
WHAT WE DO at HandyWorks:
We handle residential projects & light commercial projects.  We can re-invent your home or office space fast!  Family-owned & operated, HandyWorks is a multi-purpose company with a team of highly-skilled, local, full-time experts.
Yes, we can DESIGN your project, if you need us to.  And then, we can BUILD it!  That's why we are a DESIGN/BUILD company.  Not every contractor can do both.
Hundreds of happy homeowners in WALLINGFORD, HAMDEN, CHESHIRE, MIDDLETOWN, SOUTHINGTON, NORTH HAVEN, NORTHFORD and NORTH BRANFORD plus people from plenty of other towns throughout South-Central Connecticut, all giving us 5 stars and 2 thumbs up!
Every week of the year, year after year, we easily self-manage multiple renovation projects.  We know what it takes to make your next project a success.
The HandyWorks Way is simple:
Value + Craftsmanship + Service + Solutions = Better Results!
MEET:  Keith Santora, remodeling professional (pictured, right).  Keith has over 30 years in BOTH the building industry AND the complex field of home remodeling & improvement.  Plus, Keith is also the co-founder and co-owner of HandyWorks Remodeling!
Leading the HandyWorks team, Keith listens to you...and then offers client solutions everywhere they go.
What are your remodeling plans? A new deck?  Kitchen makeover?  Bathroom renovation?  Interior?  Exterior?  New addition to your home?  Take a look at our custom solutions we've created for others.  The next one may be yours!
See our work:  in words...AND in pictures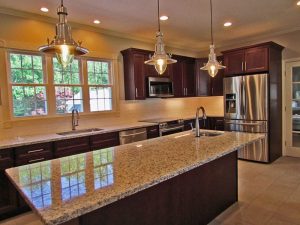 First, the WORDS:
Read about our kitchens
Read about our bathrooms
Read about our decks
Read about our stairs
Read about our entrances & exits
Read about our windows & doors
Read about our basements/garages
Read about our interiors
Read about our exteriors
Read about our whole-home remodel

BONUS:  Read our FREE  getting started checklist
Now, the PICTURES:
See our kitchen gallery
See our bathroom gallery
See our basement gallery
See our deck gallery
See our home additions gallery
See our interior gallery
See our exterior gallery
See our special projects gallery
See our full project galleryX
Stay within your budget:  get tips, advice, and top-notch professional workmanship from the people at HandyWorks Remodeling of Wallingford, CT
 What do people say about us?  Here's one recent client:
"Excellent work completed on time with great professionalism. Keith was very responsive to any questions I had and always maintained great communications throughout the process. Could not ask for a better contractor. Highly recommended. Thank you!"  -- Chad L., Hamden, CT 
BEGIN YOUR DREAM HOME MAKEOVER NOW  -  Contact us today, at HandyWorks Remodeling, call 203-626-5451, or to have questions answered for free, click the big orange "Ask Keith Now" button below: